Afbeelding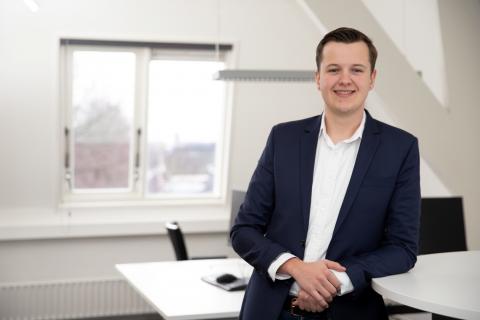 Colleague Frank Bloo: "Amazing to be part of a project from start to finish."
"Within two weeks of starting at Districon, I started on a full-time project for Heineken, Cost to Serve. I travelled to Croatia to support the local employees with the Cost to Serve process. We use data to show where significant savings can be made in the various logistics processes. My senior colleague Robert de Zwart and I implemented this for Heineken Croatia."
These are the words of Frank Bloo, a former student at the University Twente. In October 2018 he obtained his Masters in Business Information Technology (track Data Science & Business) and started as a consultant for Districon early 2019. During his studies he learned how to use IT effectively within a company and working together to ensure that processes run smoothly. "I quickly realised that I could put my studies into practise. My study topics were directly recognizable in my new job, partly due to the fact I was directly involved in a project at Districon."
Case Heineken Croatia
"For the Cost to Serve process, Districon supports Heineken locations all around the world. This process is implemented per country (70 countries). Local employees learn how to use the system and interpret results. As Districon consultants, we guide this process, with Heineken Global as a point of contact. Next to the implementation of the tool in Croatia, I developed an e-learning tool for the project. In the meantime, I was still learning how the system worked myself. While learning this, I involved the customer closely in my project. That immediately gave us insight in the user friendliness of the system. I am, together with senior consultant Robert, responsible for the e-learning.
Cost to Serve
With the help of Cost to Serve data, we show the actual costs associated to customer deliveries. Eventually this provides new insights that ultimately result in the desired savings. To analyse the data, it must be extracted from multiple systems first. We support the local Heineken employees and help them define all components.
We explain them what to enter into the system and check weekly whether this has been done correctly. What data is relevant and can be used in the tool? We mainly check the efficiency of transportation, frequency of deliveries, fill rate of trucks per trip, etc. We define how to deal with export/import, what is in/out of scope? Can this faster or more efficient? Other examples are: 
Amount of products (in sellable units) 
Information about the product itself; pallet with several six-packs or the number of hectolitres in the product
Inventory in warehouse(s)
Cost-information; Costs of transport from brewery to customer
Handling fees; Costs to move a pallet in a warehouse
In the end, we're speaking about 300 different data fields. All this information of Heineken Croatia is modeled in such way that the transport costs and warehouse costs per customer can be seen. Basically, the costs to serve every specific customer.
Finding opportunities
The step from collecting data and converting it into information is a difficult task. Now, two months later, all data is delivered. Robert and I will next week go to Croatia again to teach the local users how to work with this tool; how to use it and what they can learn from the analysis the tool makes? After the training we will investigate, together with the users, the first opportunities. To cash these opportunities, quite some actions are often needed. These consist often of making new agreements with customers. All these results will be presented to the Heineken Croatia management team. 
Steep learning curve
It's a great feeling to be involved from start to finish in an entire project. First, you're analysing systems and supporting in the datacollection; next you've got the information to make improvement decisions and present these findings to the customer. The first period was challenging but received a lot of support from my colleagues. In the end, it's still up to yourself. And looking at the latter, that's key to it all. Actively participating and taking initiative yourself. You will make mistakes but learn from them. During the whole process for Heineken Croatia I've been guided by Robert, an experienced colleague. He's been working in the logistics sector for more than 15 years and knows the ins and outs. In this short period, I've already learned a lot from him. 
Right choice
With a Master in Business Information Technology, you're in high demand in this labour market. Why I chose Districon? Because of their great client portfolio, the opportunities of working abroad and work on project basis. I could have started at a large corporate organisation, but I find that the small scale of Districon suits me better. An informal, open atmosphere and being able to learn a lot by actively participating. I joined the Business Intelligence team, but there are multiple opportunities to work with and within other teams. Like now, I'm developing a cloud platform to offer our apps to customers. A much more technical project. To me it's obvious: my choice for Districon was the right choice!"
Lots of opportunities at Districon
Districon is growing! And that offers perspectives for graduate Business Information Technology students. Join Frank in a logistics IT adventure and discover where your talents are by working along various projects. And who knows, you're next to come along on winter sports or a city trip with your colleagues. Also, we run a project called: "Predicting logistics with Artificial Intelligence". Graduating students interested in participating and writing a thesis are encouraged to contact us.
What characterizes Districon? Worldwide we advise medium-sized and large organizations on the development of their logistics strategy and solve logistics issues. In the Netherlands we are the largest provider of consultancy, IT solutions, (interim) managers, project managers and specialists within the supply chain. Our strength? Optimizing the flow of goods from producer to consumer, or vice versa, from consumer to sales organization or manufacturer. In every project we strive for logistic excellence, one of the key factors for a good competitive position of companies.
We work at distribution centers, warehouses, distribution networks and cargo hubs at airports and seaports. Our customers? Among many others - Heineken, Ahold, Schiphol, Bloomon, Evides, GVB and ASML.
Join in! Check out our job offers.