Afbeelding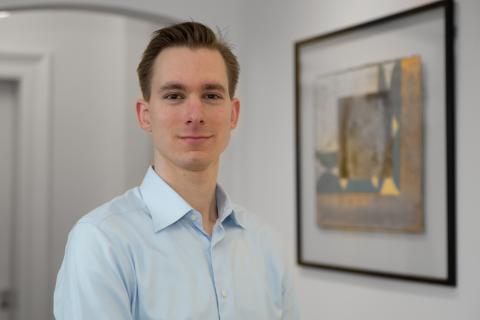 Colleague Jochem Pfeiffer has been a member of the Districon Advisory team for over 1,5 years. He will tell you all about his experiences, challenges and vision for the future in this "in the spotlight".
Who are you?
My name is Jochem Pfeiffer, after my studies I started as a junior at Districon. I have been part of the advisory team for over a year and a half.
My experiences
BIvisory
In my first weeks it became clear that the use of data in consultancy assignments is key. This is supported by the trend in which more organizations have good quality data available. Therefore, the effective use of data is an important part of the toolbox we use to solve the challenges of our customers. The software we use makes it possible to obtain the required insights quickly and effectively from large amounts of data. With almost every assignment, questions can be answered quickly using a data model, even in real time during a meeting with the customer. Through learning by doing an internal training, I was able to master this part of our toolbox. It is therefore cool to see what is possible in a short amount of time.
Robust collaboration
My current focus, in which I also apply data analysis, is network and distribution. Market developments or strategic decisions often change the existing network and/or its center of gravity. For example: regional growth, mergers, closure of a location or facilitating e-commerce. Thinking along with our customers about the design of their networks is often challenging. What I particularly like is the data analysis in combination with close collaboration between us and the various disciplines of the customer. In addition to logistics, you can think of the data analyst in order to collect the required data, correct interpretation and validation. Or commerce, in order to determine which requirements must be met by the designed solution. By involving several stakeholders, the relevant scenarios and sensitivities are considered, which will benefit the robustness of a solution.
Roadmap for the city
Network and distribution also include city logistics. In recent years, this has become a hot topic. Therefore, it is a world where a lot is happening. Municipalities have ambitious plans. Various shippers, customers and logistics service providers are responding by critically reviewing their current position in city logistics and taking future policy into account. As a result, several pioneers are setting up city hubs and using last-mile electric transportation. Since last year, I have been a part of this world. Partly due to an assignment from GBCU. This subject still has many uncertainties, including fragmented policy. Still, steps can be taken in order to make city logistics smarter and cleaner. It is fascinating to create a roadmap together with our clients: what can be initiated right now and what in the long term?
Vision for the future
Futuremap
Regarding a roadmap for future developments, I expect that more parties will be forced to revise the design of their city logistics. This could be due to future policy, but also due to the will to do something. This will create more opportunities. The potential synergy will increase with the number of players that will take this step. I look forward to supporting our customers regarding these challenges in the upcoming years.
Which colleague will be in the spotlight next?
Sander van Lokven has been at the helm of the Chicago office for two years now. I am curious about the latest developments. Are you still on course?