Afbeelding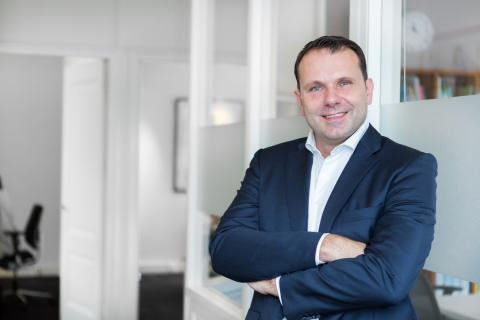 This time in "in the spotlight" colleague Jeroen Kiks. Jeroen has been General Manager Districon Group since 2012 but has been associated with Districon for more than 20 years. He is happy to tell you all about his experiences.
Who are you?
After 25 years within the Supply Chain world, I assume I am no longer an unknown, however I will briefly introduce myself. My name is Jeroen Kiks, and I am affiliated with Districon since 1999 and Managing Director since 2012. In 1996 I graduated as an Industrial Engineering with a preliminary education in Mechanical Engineering. Afterwards I specialized in Architecture and Real Estate and currently, I am ultimately responsible for the Professionals activities and involved in all Real Estate related consultancy assignments and projects.
Real Estate and Change Management as a common thread through my career
After graduating, I started working within the internal consultants and project management department of KLM Engineering & Maintenance. There, I had the opportunity to work on various researches, and projects. One of my first assignments concerned optimizing the purchasing processes within KLM Engine Services. Subsequently, with a team of young dogs, we built a training and instruction platform, Engine Online, to support the implementation of SAP. During my last assignment I discovered facets that gave my career the right boost, these facets mainly focused on Change Management and Real Estate.
The chain is as strong as its weakest link
Who or what is the weakest link, that is the question. I cannot resist writing about Covid-19 since almost everyone was talking and is still talking about Covid-19 daily. The first lockdown astonished everyone and the painful consequences of the measures in this regard. My entrepreneurial skills were also put to test because the question remained who or what is the weakest link. What awaited us and how do you anticipate to the unknown that may come your way and when do you take which measures? How lucky I am to be part of the Districon organization. Highly qualified colleagues with perseverance and a loyalty that one rarely encounters. But, and there is always a but; you won't make it solely with these qualities, at least not in the long term. Governing is looking ahead and predicting where and when intervention is necessary. And that is exactly what our Data specialists excel in. If you can project and display management information for large multinationals through BI dashboards and build predictive models with optimization software, you must also be able to guide your own organization through the crisis in a controlled and energetic manner? And to speak in port jargon, we have succeeded more than excellently; Rotterdam style just put your shoulders to the wheel and make it happen.
The summer is magic; what will be the new normal?
Now the corona measures are lifted, everyone is preparing for the new normal. But what is the new normal? How do we get back to life and back to reality. Are we stuck in a culture of continuous fear; do we become prisoners of our own thoughts, do we leave the traditional Dutch three kisses behind, does the digital pop quiz become a new heritage and will we finally accept interchanging working from home and working at the office. Speaking of a pop quiz; several song titles are hidden in this article. Find all five and the winner will receive a fun prize. Send the correct answers to info@districon.com stating pop quiz. Do not hesitate to send your answer as soon as possible, there can only be one winner.
Covid-19, what does the future hold?
The economists of the Central Planning Bureau have recently calculated that the ultimate economic damage appears to be relatively minor. Of course, many people feel the consequences, but at the same time many Dutch people and companies have built up their savings during the lockdown. It is now important to facilitate the economy the right way and to focus on sustainability and sustainable investments. From "more is better" to "better is more". You cannot always get what you want. More focus on innovation and less passing on to the next generation. A good example is our CO₂ neutral mobility policy. In fact, that is investing in behavioral change. Travel less and when you travel, do it cleanly by EV or public transport. All other kilometers traveled by petrol car or airplane are fully compensated by us. Another example is our participation in BigMile. The standard in CO₂ footprint optimization. Supply chain organizations gain insight into their CO₂ emissions with the help of data. BigMile offers the tools to calculate, analyze, and above all improve CO₂ footprints. I predict that within three years every self-respecting supply chain organization will join BigMile. You can no longer look away.
Which colleague would you like to be in the next spotlight?
I am happy to hand over the baton to Niels Kunst, one of our younger advisors. I always enjoy working with young people. Not only are they eager to learn, but also inspiring to me every day. The floor is yours Niels, share your story!