Afbeelding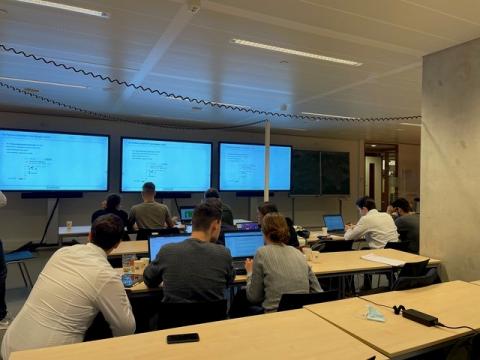 Students Industrial Engineering and Information Management of the University Twente were visited by Districon consultants Bram de la Combé and Frank Bloo. On 1 December, they presented a case to 15 master's students. Central to this case was predicting sales for a retailer of seasonal products. By solving the case, the students learned which techniques you can use to make models.
Because the case was made on the same day, Bram and Frank had already made a setup in programming language. The students were given a number of example techniques, which they had to complete themselves. These included questions such as 'What seasonal products are there?' and 'What do I expect to sell? "They knew the technique, but not yet the application. They found it interesting to see what the models are used for. In 2 to 3 hours they had to make the case and did it quite well. Everyone was enthusiastic about applying the theory and found it interesting hearing the tool is used worldwide.
These Master's students are not doing a specific logistics study. And this is not absolutely necessary if you want to work in the logistics sector. If you have learned to work a lot with numbers and understand how a model works, you can also apply it in logistics. You will then soon learn more about the logistic sector ". Bram and Frank explain.
"Through our old study association, we came into contact with the university again. Students want to learn how they can apply theory into practice. In our case, they also get to know a bit of the logistics sector and the opportunities it offers them. We explained the projects we do at Districon. These students are just about to complete their graduation internships. This was a great opportunity to bring to their attention that they can also do this at Districon.
Would you like to know more about a graduation internship or the projects at Districon? Call or e-mail Bram or Frank, they will be happy to tell you more.