Afbeelding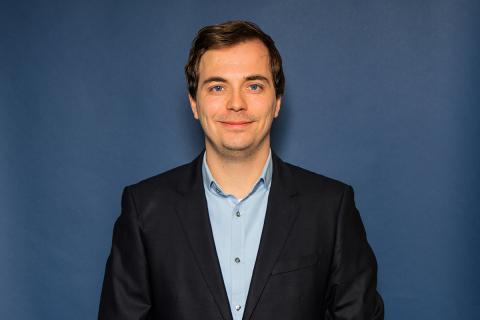 This time in our "In the Spotlight" colleague Niels Kunst. After graduating, Niels immediately joined Districon. One of his memorable projects: being involved in the start-up of the BigMile project. Read more about Niels' (future) vision here.
Who are you?
I am Niels Kunst and I have been working in the Solutions team at Districon since 2020. In 2019 I graduated in Econometrics - Operations Research with Mechanical Engineering as a preparatory education. After my studies I immediately started working as a consultant at Districon. In this, I contribute as an analyst, implementation specialist and committed colleague to help customers further in effective and sustainable development in the supply chain world.
My experiences
My adventure at Districon started with the BigMile project, now a successful startup. With the BigMile software, companies are able to calculate; provide insight and analyze their CO2 footprint. Due to the great success of BigMile (recently awarded European scale up competition) I started together with many other starters in the BigMile breeding ground. As a result, we had a young and dynamic team led by experts and veterans in the reduction of emissions in the supply chain. It was cool to get to know Districon in this team and to be able to contribute to a greener world.
For me, working at Districon means being challenged in the wonderful world of logistics operations and production planning. Looking for the right solution, preferably with the necessary mathematical optimization, to help our customers further. We manage to do this in diverse and varied projects, from tactical and operational production planning to advising with strategic network optimization. It gives me great satisfaction to be in this broad field, using analytical tools to help the customer further.
Diversity in projects and industries is an important aspect that gives me a lot of energy in my job. It gives me the opportunity to look at many different aspects in different corners of the supply chain. Due to corona, it was unfortunately not possible to physically visit these operations, a part that provides a lot of insight, and can also be very impressive. Hopefully we'll be back on the road soon!
Future vision
We cannot escape the 'new normal working', or hybrid working. For me too, that means several days a week at home behind the laptop and on the other days meetings and brainstorm sessions in person at the office or at the customer (if possible). I'm looking forward to working more face-to-face again because I think the communication and the atmosphere improves. However, working from home has also been proven to facilitate well in helping with focus. I see a combination in the near future.
In recent years there has been a development in making the built-up area more sustainable. This often means a greening of passenger cars, but certainly also of delivery services in city centers. Certainly, in the latter case, I foresee many questions that the future will provide answers to. How are we going to organize the last mile and not at least, by what means of transport? And what other infrastructure is involved, such as local or mobile hubs? These are questions that come up more and more and that I applaud in order to make a greener and more efficient world. I hope to be able to contribute to this myself in the future!
Which colleague do I nominate for the next spotlight?
I would like to nominate Frank Rotteveel for the next 'In the spotlight'. Frank is the torchbearer of the Air Cargo team, and I am very curious about his experiences and vision at Districon. Frank, take it away!