Afbeelding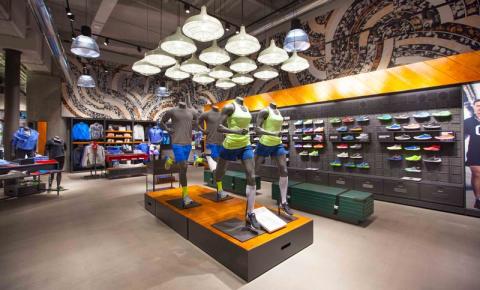 Stock control, flexible warehouse capacity, network locations, make or buy, mechanisation, legacy, etc. These are the questions that we are working on, since many years. But did nothing change in the world? For sure, the business context changed dramatically, just like the technical opportunities! I want to share my recent experience, this is part 1.
Where to put my inventory?
Inventory optimisation is comparable to running through a complex maze while competing the time, weather circumstances and competitors. You constantly need to decide about your way to go, to the left or right. Only the best choices bring you to the exit.
So it is with inventory optimisation. Your products are sold omnichannel: via stores, webshops, platforms, wholesale partners, concessions and others. Your allocation and replenishment decisions impact your speed and rate of sale, leading towards higher margins, mark downs or last sales.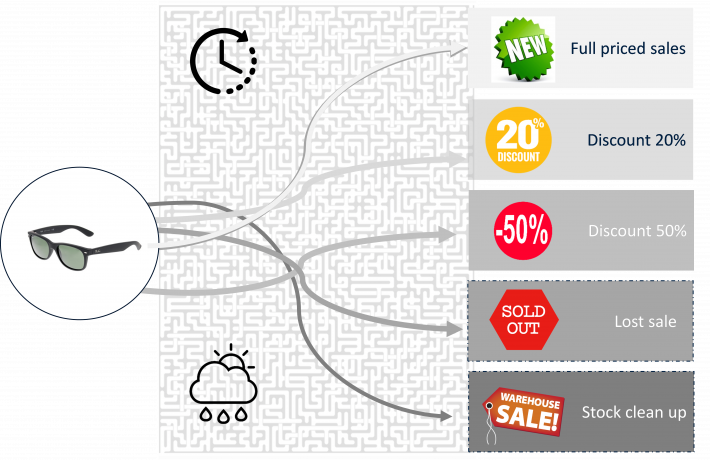 Modern technologies like AIMMS provide the opportunity for businesses to improve your decision making. Supported by innovative software applications, connected to current IT infrastructures, planners are able to improve margins and nett promotor score, while reducing lost sales and overstocks.
We build this kind of applications at several international retailers, always customised, and based on their goals, rules and constraints. Let me share a case.
Case International fashion retailer inventory optimization                
An international retailer was looking for an IT solution to speed up sales, in order to maximise margin while reducing mark downs and depreciations. The retailer sold its assortment via hundreds of stores in Europe and they had on international online footprint via own webshops and platforms like Zalando and La Redoute. In short, a complex and competitive maze with hundreds of outlets.
This ambition was aligned with my view on fashion business to speed up sales (see presentation below). The key business drivers to speed up sales are (1) optimal allocation of new collections, (2) replenishment based on forward sales potential and (3) product transfers between stores and/or sales channels. Remark, transfers are an expensive solution, so only efficient to relocate last items. By optimisation these drivers a fashion retailer is able to push the sales funnel.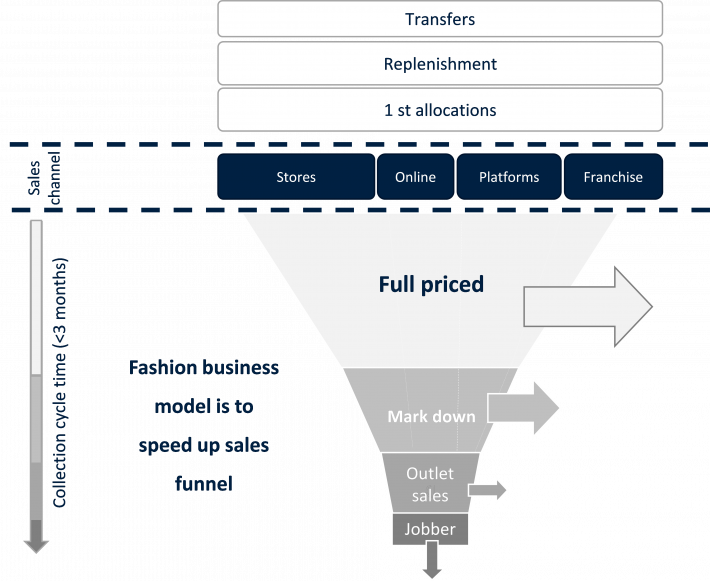 Districon developed an app store in AIMMS, connected to their ERP system, integrating four business processes:
A forecast app on store/sub group level to define sales potential
An allocation app to optimise the first allocation based on sales potential and presentation requirements
A replenishment app to align weeks of forwarding sales cover and sales potential
A transfer app to relocate stock in case sales potential balances at least relocation costs
Advantages:
Fast development,  the apps are developed in 4 months
User Interface, enabling the user to work effectively and efficiently
Add on applications, using the legacy IT systems (like ERP and POS systems)
Learnings and challenges:
The major challenge is to translate commercial policies into business rules
Distinguish between business parameters and "hard programming"
Invest in trust. During the implementation phase, all users and stakeholders need to gain trustin the outcomes
Conclusion:
Innovative software tooling enables retailers to grow turnover and margins, based on fast development and lower costs while using IT legacy systems.
Interested? Get in contact with Victor Ponsioen