Afbeelding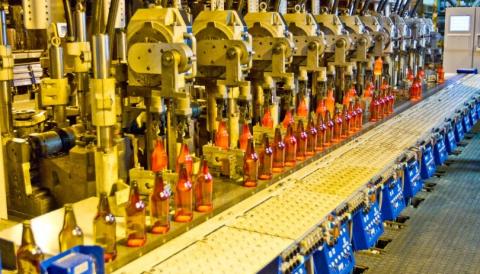 Nampak is Africa's leading packaging company. Nampak Glass, the bottling division of the company, operates a world-class manufacturing plant in Roodekop, South Africa. The facility is equipped with the latest international technology and supplies a diverse range of standard as well as customer-specific glass bottles to the beverage and food industry.
Districon developed in 6 months a Profit Based optimization solution for the detailed planning and scheduling of glass bottles for their 3 furnaces with a total throughput of over 1000 tons a day. The tool leverages AIMMS' modelling technology on strategic level (color plan for the next two years), tactical level (mid-term scenario planning to support their S&OP process) and operational level (number of bottles on which line).
Increasing needs for product flexibility and production efficiency, paired with rising customer demand volatility require Nampak Glass to improve their ability to deploy the best possible production schedule at all times. A redesign of the scheduling process was necessary to align different production phases. To address this, Nampak Glass has chosen AIMMS' optimization software and Districon, an AIMMS implementation partner, to develop a customized production scheduling and optimization tool.
Districon created a unique business platform named GOBSS:  Glass Optimization Business Software Solution.  Districon developed this tool in six months supporting Nampak Glass' detailed planning process for 3 furnaces, enabling improvements in turnaround times and efficiency. GOBSS supports the company's schedulers, sales and management teams to make the best business decisions through the evaluation and optimization of profit, cost, service level or throughput scenarios.  GOBSS also allows the business to respond to daily disturbances and changing demand requirements in a cost-effective by answering Nampak's key business question: "what actions do we need to take to profitably achieve our business objectives?" 
AIMMS and Districon were chosen for their combined ability to deliver smart optimization-based supply chain solutions in a short space of time with clear ROI, supported by a professional and capable team. "Our goal is to be able to make fast, efficient and comprehensive business decisions in an environment where demands are constantly changing. GOBSS now enables us to do that. AIMMS was identified as a powerful and versatile tool with partner Districon as an outfit with the ability to harness and extract the most that the AIMMS engine has to offer. We chose this team for that very reason. Our business requirements are not only complex but unique in nature and working with the right tools and the right team was imperative for us to achieve our goals.  GOBSS allows us to make better informed decisions, it is flexible, easily implemented, and quick to deliver", says Paul Coombe, Supply Chain Director of Nampak Glass, "it has achieved the project's pay-back expectations by making better informed decisions".
"The Nampak Glass Business Strategy was clear from the onset; use technology to facilitate sound and informed business decisions; the investment in business planning software therefore became expectedly, but critically one of the improvement pillars in our quest towards the Nampak Glass Business Optimization intervention. The development, customization and "go live" of the AIMMS software for Nampak were done in record time, enhancing our business rhythm, but more importantly delivered incredible stability operationally.  Districon was instrumental in fast tracking and delivering the software solution to Nampak.  We have taken a massive step forward, created much needed stability and visibility, but more importantly, exceeding customer expectations, what a journey", says Pieter van den Berg, Divisional Managing Director of Nampak Glass.
"Nampak has decided to make a great step forward towards best in class performance," says Jack Pool, Managing Director at Districon. "Nampak lives the ambition to be leading the game and it's an honour to be part of this journey."
"During our engagement, I experienced Nampak as a value driven company on a clear mission with a great leadership team,'' says Christophe Frère, VP EMEA at AIMMS. "We are proud that AIMMS' technology is making a difference and I foresee a bright future for Nampak Group.''